Monday, April 19th, 2010
---
12:55 am
- poker as a life lesson
Before you ask the question I shall give you the answer. Yes, I really am about to wax poetic about poker. About 6 weeks ago I deposited 20 bucks on the poker website Full Tilt. This isn't the first time I've played online for money and I've even had some limited success (with my best result being a win of 160 dollars for finishing 112th in a 7000 player tourney) but I'm never able to sustain the money. I gamble with it, taking a lot of money and risking it for the hope of a big score. If I had 50 bucks I'd play a 40 dollar match with the promise of big dividends if I won. Not surprisingly, I never won. It seems that anytime I'd press or get greedy I'd inevitably lose it all. And for a long time I left online poker alone.

But, like I said, about 6 weeks ago I deposited 20 bucks with the intention of making a serious attempt at grinding out some money online. The idea is to play low stakes and slowly build up your money. Did I follow that idea? For a day or two, but then I started running bad, or in non poker terms, getting really unlucky. And so I'd get frustrated, (what poker players call being "on tilt") and so I'd play again and lose again, so then I'd play a higher stakes game and lose, and so on and so forth. Over the course of those first two weeks my bankroll fluctuated between 20 and 1 dollar with at one point me getting it down to just 18 cents. Obviously I wasn't following the plan and things were falling apart because of it.

So, I'd say about a month ago, I straightened up, strengthened my mind to deal with being unlucky all the time (which trust me, I am, but I could ramble for far too long about that. Suffice to say that I can document to you probably 1000 times when I was a 90% favorite to win a hand and end up losing) and got back on the plan. Small stakes, smart management, steady play. And I started to build back up. I got back above 10, then back to my original 20 and then upwards towards 30. I had a good week after that and got into the 40's when I decided to play a much bigger tournament. My game is 1 dollar buy in 18 or 27 player tournaments. In those you finish in the top 5 to get money and get in the top 3 to get a decent score (1st is around 10, 2nd around 6). Well, one day I played a 2 dollar 180 person tournament. I ended up going really deep in it and making the final table. I got unlucky (to be fair I was only an 85 percent favorite in the hand that I lost out on, so of course I wasn't going to win) and made 15 bucks for getting 8th. That put me at 55 and suddenly I started to think that maybe I really could do this.

Over the next few weeks my bankroll continued to steadily increase. Got into the 60's and then last week I completely jumped the 70's, with a win putting me from 69 right to 80. And then this week happened, and it was the most frustrating week so far. I've never ran as bad as I did this past week before in my life. Every day became this horrific struggle to wind up right where I started. I'd lose out of 9 tournaments in a row only to win the 10th win and get back right to where I started the day. But I stick with it, resisted the fifty or so urges I had to fling my keyboard across the room into my front door (where I imagine it would shatter magnificently), and for the past few days I moved up a few bucks. Then the past two days I actually got into the upper 80's but was having to struggle to stay there. Then, today, I played just a few cash games to go from 88.73 up to 90. Then, just now, I played 3 more tournaments (I play two at a time). I lost out of one and then proceeded to get 2nd in the other two. My bankroll now stands at 100.33. Why is that significant? Because now, according to this style of bankroll management, I move up to the 2 dollar tournaments.

I've said it before and I'll say it again, I love poker but I'm not making too big of a deal out of this. I try to play a few tournaments every day but I'm not wasting my life away becoming a degenerate gambler or anything. Work is still going strong, still hanging with my family and still doing other things I enjoy. But this is something that I believe in, it's something that I'm good at and most importantly it's something that's taught me a lot just in this past month. By staying true to a steady plan and keeping my anger and emotions in check I've multiplied my money five fold. It's far from the biggest score I've ever made in poker (I won around 500 at a nearby casino once) but it feels to be the most substantial. I kept moving forward despite some awful bad beats and unlucky cards and I never once had a losing week. And now I go from step 1 of this plan to step 2. I have no clue what happens next, I may go on a vicious downswing and lose the whole 100. But if that happens it won't be because I lose my head, play above my limits or let my anger get the best of me.

So, now that I've wasted several minutes of your life, I suppose I'll shut up. I'm just very excited right now to have broken 100. It was a tough goal but through staying persistent and positive I achieved it. Now, onto the next goal, which is 250!
Sunday, April 11th, 2010
---
10:03 pm
- Long time no post
Man, I've neglected this journal for the past month or so. I don't really have my thoughts in order currently or have anything in particular I want to talk about so here's some true randomness from my brain into your eyes and subsequently also into your brain. It's kinda gross when you look at it as a brain to brain transfer...

I've been playing a ton of poker lately. I started at one of the online sites for a very tiny amount of money and have been practicing a very rigid bankroll management system in which you slowly build up into playing bigger tournaments. A poker pro used this system to turn 1 dollar into ten thousand in one year. Will I do that? I honestly don't know. I'm cashing regularly, playing solid and have been on a constant upswing and am nearing the level where I'll increase from playing 1 dollar tournaments to playing 2 dollar tournaments. Poker's got a lot of skill to it but luck does exist within the game. I could go on a brutal downswing and wipe out all my bankroll, so I'm not getting too worked up on the possibilities that exist right now. All I'll say is that if the trend continues and I can slowly and calmly and smartly increase my bankroll this could turn into something a little more legitimate than I ever thought it would. I love the game and have a blast playing it and don't feel obsessed with it or like it's taking over my life or anything, so in my book it's all going well so far.

Life at the newspaper is good these days. Pretty calm and robotic, in a sense, which bothers me a little. We try our best to meet up regularly and make it feel like a true team but with such a tiny staff (3 of us doing it full time) all split up working on different things we haven't really met up in several months. So it kind of feels like working in a vacuum these days. I go cover things, I write things, I take pictures, I email them over, I get no response, I go the next week to get the paper from the printing press, the things I emailed are in the paper. It's an automated system right now that some weeks feels a tiny bit soulless but for the most part is still good. I'm hoping that we can all rally a bit soon and pull together and make it feel a little more alive but like I said, I have no true, real complaints about anything. Other than my horrible, lopsided, evil taxes, but that's as much an issue with my government as it is my employer.

Hmmm... what else? I... um.... don't know. Life is really good. I feel happy, grounded, inspired, loved, and alive. I enjoy waking up every day and seeing what life has in store for me. There's a true minimum of drama in my world and that's something I enjoy very much. I've been spending a decent amount of time with my family and that's so important to my happiness and calmness in life. I'm not writing as much fiction as I should be. I desperately need to finish my long in progress novel and some other projects and continue to create fiction. I've always believed it was what I was put on this world to do and it's pretty silly to let a week go by where I don't progress at all on any of my fiction projects. So if I had ti pinpoint a current deficit in my life it would be that. Oh, and taxes too, have I mentioned how much of a deficit they are?

So I suppose I'll shut up and let you all get back to your lives. I've been enjoying new episodes of FlashForward and have especially been enjoying the return of one of my new favorite shows StarGate Universe. It's so awesome and very nearly every bit as good as Battlestar Galactica was. The Office has actually been really funny lately and that makes me very happy. I was truly saddened by how off this season had been feeling and it's encouraging to see the show return to the way it used to be. And those are some of the things that I've been enjoying. Why I chose to share that after saying I'd shut up and let you get back to your lives I have no idea. But hey, from my brain to yours, these are the things that I've been thinking tonight.
Monday, March 8th, 2010
---
10:29 am
- Up Early
Even though I've been staying up as late as ever the past few mornings I've been waking up pretty early. This morning I've been feeling very reflective and decided to just ramble on livejournal for a while.

I had two separate dreams last night. One was about my ex-girlfriend and I driving across country together and I think we were going to get back together. The other one was about trading in videogames at GameStop and me, my brother, my roommate and all three of my nephews were super excited about trading stuff in. But apparently GameStop had decided to take more than just games for trade in so I went outside and painted a painting that I was going to trade in. But when I finished I saw that it was too awesome to trade in (The painting was of a great white shark jumping out of a little pond and eating a duck and in the foreground there were lots of scared parkgoers running away and screaming). That's all I remember about that dream. I am weird.

As of midnight last night I've given up all soda. Ten hours later I'm already feeling the effects but I know this is something I needed to do. I'm so beyond addicted to soda, Dr. Pepper in particular, and yet they're so bad for you. Especially when you drink them in the quantities I do. I've quit drinking them before and my record for being clean is one month but I'm hoping to do much, much better than that this time.

I've been on a huge poker kick the past few weeks as we prepare to start hosting our poker tournaments again. We did it all through 2009 and I was the overall champion and I'm looking forward to getting them started again this year. I honestly don't know if I"ll be able to repeat as champion this year but I'm looking forward to the challenge of trying. I played a 27 person tournament on Full Tilt Poker last night and ended up winning it, so that was a good feeling. It made me feel like all of the studying and planning I've been doing on my strategy is paying off. I used to be a very good, very solid poker player but my game was getting a bit stagnant so I've been doing some tweaking on it as of late. I have to say that I'm very excited about the results.

Hmmmmm.... what else? Nothing really. I think I have the day off which is as it should be. The past few Mondays (which are my only day off every week) have been spent working so that's always super uncool. I'm hoping to play some poker today with some friends as a final warmup for this weekends tournament and then tonight at midnight I go and pick up my copy of Final Fantasy 13 at GameStop, so I'm excited about that too.

I guess I"ll shut up now. I hope you're all doing great and having a wonderful start to your weeks!
Wednesday, March 3rd, 2010
---
9:06 pm
- The Meaningful Sacrifice
Okay, I'm going to continue ranting about storytelling as I had a lot of fun doing it in my last post and as I feel strongly about some of this stuff.

This week we're going to talk about the meaningful sacrifice. The meaningful sacrifice is what makes a good many stories worthwhile. This is the payoff of, I don't know, I'm going to say at least more than 50% of all stories. What is a meaningful sacrifice? Well, this one's pretty self explanatory. In storytelling, a meaningful sacrifice is when a character makes a big sacrifice in order to bring about something in the story. For example, a husband dives in front of his wife just as a badguy shoots at her. The bullet strikes the husband and kills him instead of his wife. Thus, the husband has made a meaningful sacrifice, as he sacrificed his life to save the life of his spouse.

Okay, so that's all good and all. I love the meaningful sacrifice, I really do. I think it's an awesome storytelling technique and let's be honest, the meaningful sacrifice that matters most in my life is the one that Jesus Christ made dying on the cross for my sins. So the meaningful sacrifice isn't just in stories, it's part of my religious beliefs. It's a technique that I use in a lot of my stories and like I said, I love it.

So, if I love it, what's this rant about? Well, the meaningful sacrifice, as I said, gets used all the time in stories but it gets abused in a lot of them. You see, there's few things more emotionally gripping than the meaningful sacrifice and thusly most storytellers want to include it in their stories. But here's the thing, it's emotionally gripping because it matters. These people we care about in the story are giving up something important and that matters to us, the reader/viewer. However, to make the meaningful sacrifice matter it has to be real and it has to live up to the word "meaningful". If a main character gives up his lunch money for a day then why do we care? It's not much of a sacrifice really.

The abuse that the meaningful sacrifice takes comes in this form and it happens all the time; the storyteller uses the meaningful sacrifice to emotionally manipulate the audience only to completely negate the meaningful sacrifice later. I'm going to give you an example of this right now. This comes from the videogame Star Ocean: The Last Hope and I will be spoiling the ending so if you don't want the game spoiled then you'll need to skip the next 2 paragraphs.

Towards the end of this roleplaying game one of the big characters in the game, a guy named Crowe, dies. Next, another of the main characters named Faize becomes a bad guy. The main character, Edge, fights Faize and defeats the bad side of him. But as this planet crumbles around them Faize (now restored to being a good guy) and Edge can't escape in time and both of them fall into the supernova explosion as the planet implodes and explodes. So, three of the main characters in the game have died and it was pretty cool. This was a pretty meaningful sacrifice on Crowe's part and especially on Edge's part, as even after his friend Faize turned evil he refused to leave his side and died trying to get him to safety. Successful meaningful sacrifices all around.

BUT. Like so many other storytellers, the makers of this game weren't willing to follow through on the meaningful sacrifice. It was a way to build false tension and false emotion. This becomes clear about five minutes later, when without explanation, Edge shows up back on his spaceship with all of his friends. Does anybody go "HOW THE HELL DID YOU SURVIVE?", of course they don't. Because there's no explanation, really, other than the storyteller used a cheap technique to tease real meaningful sacrifice only to reveal it to be nothing but a gimmick to make the end of the game seem suspenseful and emotional when it really wasn't. Okay, so Edge somehow survived being caught inside an exploding planet, that's pretty dumb, but that's the end of it, right? Nope, think again. After turning his ship into a black hole, with him inside it, Crowe then explodes along with his ship. So you'd think his meaningful sacrifice was permanent and real. Well, later on, he washes ashore on some distant planet where he's greeted by a fortune teller who says something like "I knew you'd be here. One day soon we'll be married." And Crowe just sort of looks up and is like, "WHAT THE WHAT?" So yeah, there's the 2nd of 3 meaningful sacrifices rendered completely meaningless. The third, the death of Faize, is equally unexplained and stupid. As years later he simply appears on a distant planet near the woman that he loves. And thus, all 3 of the meaningful sacrifices are completely and totally made useless and pointless.

Think about how often this happens in stories. Characters are always giving up things that seem to matter but are soon to be revealed not to matter at all. I could give you more examples but I don't think I have to, as they're all around us in storytelling. For future reference, I'm going to call these things "Unmeaningful Unsacrifices."

Now, in closing, here's a question and an answer. Is it possible for an unmeaningful unsacrifice to work within a story? Yes, of course it is. Just because it's a technique used by lazy storytellers to generate false emotion and tension doesn't mean that it's not something that can work in the hands of good writers. But as a general rule the unmeaningful unsacrifice is always just a cheap ploy to try and get a rise out of the audience. Let me leave you with my very first example (the one about the husband taking the bullet for his wife, for those of you with ADD), but this time with an unmeaningful unsacrifice instead of the meaningful sacrifice.

The gunshot rang out, louder and more menacingly than all the others. Debbie saw the gun pointed right at her head and knew there was no time to dodge or duck. After everything that she and Steve had been through, after all the assassins they had eluded, after all the bullets that had missed them, this was the one that would end her life. Just before she closed her eyes tightly she saw Steve leaping towards her. At first she thought he was going to try to knock her out of the bullets path but then the terrifying reality of his plan became clear to her. He was jumping in front of her to take the bullet. The word "NO!" rose up in her throat but the moment happened so fast that she never had time to say it. All of a sudden he was in front of her and there was a terrible impact and a splash of red.

And then it was over. His still body lying in front of her. The SWAT team had arrived now and taken down the final shooter but not in time to save Steve. Debbie's mouth hung open as she stared down at his unmoving form. She was too shocked to cry, too shocked even to breathe. After all she had put him through, the infidelity, the threats of divorce and this whole business with the assassins, he still loved her enough to sacrifice his life for hers.

"Steve."

The word barely escaped from her lips, nothing but a whisper. She slowly reached out and turned his body towards her. She recoiled in shock to see his eyes open and a smile on his face.

"Hiya honey," he said with a wink.

Debbie just stared, trying to find the words to ask him how he had survived the kill shot to the heart. As if reading her mind, Steve touched the red substance on his chest and spoke.

"I knew that of all the assassins it was the snipers we had to worry about most. So last night while they were sleeping I snuck into their hotel and replaced all of their bullets with red paint bullets," he said.

"Pa... paint?" Debbie said, barely comprehending.

Steve reached out and wiped some of the red paint onto her cheek.

"Yes dear, just paint," Steve said with a chuckle.

"Oh you... you... magnificent bastard!" Debbie exclaimed.

She then grabbed him and kissed him just like she had the first day they had met, all those years ago.

THE UNMEANINGFUL END
Saturday, February 27th, 2010
---
3:14 am
- The Mysterious Mysteries of the Mystery Genre
From time to time I can enjoy a great mystery but for the most part I don't really like them and I certainly don't write them. Here are my reasons for this.

I once read that the most difficult type of story to write is a mystery. While I'd agree, the most difficult story to write would be a GOOD mystery (keyword GOOD) most mysteries aren't good and I certainly don't think they'd be difficult to write. As a matter of fact, I think they'd be pretty easy to write. Here is my general perception of what it would take to write a current mystery that could be found in bookstores or even on movie screens all over the country at any given time. Oh, and for any of you weirdos out there who haven't seen The Sixth Sense I'm going to spoil that movie, so don't read on if you're not wanting that movie spoiled for you. YOU'VE BEEN WARNED!

An interesting story
You'd think this goes without saying, but in a mystery you really need a nice hook to pull you in. For example, young boy can see dead people. This is a unique and strange story that gets us interested and wants us to watch it unfold.

An interesting person
On top of the interesting story you need one or more really interesting characters that can make the audience feel connected to the interesting story. For example, a traumatized psychologist that works with a kid who sees dead people while also dealing with some weirdness in his own life.

An interesting journey
Now that you've got your interesting character and your interesting story you've got to set that interesting character on a journey through that interesting story. During the journey the stakes must be raised and the tension must be built. For example, traumatized psychologist gets mixed up in the freaky supernatural dealings surrounding a young kid who can see and interact with dead people.

A shocking revelation
Here's the only part that seems to matter in modern mystery. Once you've lead your audience on a journey during which they're trying to solve or figure out your mysterious and interesting story you then hit them with a shocking revelation. This revelation changes EVERYTHING and makes them see the whole movie in a whole new way. For example, the traumatized psychologist was dead himself the whole time and didn't even know it!

The fallout from the revelation
At this point the mystery is pretty much complete and we get whatever wrap-up needs to be done. You take the new status quo you've created with your revelation and use it as the catalyst to end your story and then you're done. For example, young dead people seeing boy learns to help dead people and dead traumatized psychologist does... whatever he does, I can't remember. He probably comes to grips with being dead and goes to heaven or something.

So what have we learned? That you too can write a popular mystery if you can come up with a shocking revelation. Get an interesting story, an interesting character, set them on an interesting journey, throw in a hefty dose of shocking revelation, then deal with the fallout from the revelation and boy oh boy will you have yourself a perfectly adequate mystery on your hands that you can likely turn into a best selling novel or a mildly profitable film.

Let's put all that we've learned into action and create a mystery right now!

Interesting Story
All the residents of the small Texas town Cliffside know about the neighboring town of Hashby but few of them have ever traveled there. As a matter of fact, few Cliffside residents have ever traveled anywhere. But for those that do make the trip to the fabled Hashby they find more than just an exciting town that is more than double the size of their own. They find a place full of excitement and thrills where all of their wildest dreams seem to come true. But they also find that the longer they stay there that the town seems to present them with nightmares instead of dreams. They also find that once you go to visit Hashby you never ever leave as your darkest fears crawl out of your imagination and into reality and eventually kills you or drives you insane.

Interesting Character
The disgraced sheriff of Cliffside, Martellus Worthington. After enjoying many years as one of the most popular and beloved men in town, Martellus has seen his life turned upside down. After his wife (they were high school sweethearts) is discovered in the midst of an affair in the back of the bingo hall Martellus begins drinking on the job to deal with the embarrassment and pain. He then makes a crucial mistake while trying to solve a case and ends up brutally beating and jailing an innocent man. Then, the unheard of happened. For the first time in 12 years someone runs against Martellus in the local elections for sheriff and shockingly they defeat him. His career, reputation and wife lost, Martellus makes the decision to visit Hashby for the first time in his life.

Interesting Journey
Martellus is a little torn about leaving Cliffside for the first time but knows he needs a change of scenery and goes. Once he arrives he starts to have the time of his life as it seems as if all his dreams are coming true. But slowly, over the course of the story, strange things start creeping into this "time of his life". Demonic figures walk past but then are gone when he turns to look, a tasty meal changes to a rancid meal between bites, and once bustling nighttime streets turn barren and scary. Martellus thought he was having the time of his life but as the story progresses he instead finds himself fighting for his life and sanity as the manifestations of Hashby come at him from all sides.



Shocking Revelation
Martellus fights his way to the city hall of Hashby only to discover that... wait for it... THE MAYOR OF THE TOWN IS THE DEVIL! AND THE DEVIL REVEALS THAT HASHBY ISN'T A TOWN AT ALL, BUT A SORT OF PRE-HELL SET UP FOR THOSE WHOSE SOULS ARE TEETERING ON THE BRINK OF BEING DAMNED. THEY COME TO HASHBY AND ACT ON ALL THEIR IMPULSES AND BY DOING SO INSURE THAT THEIR SOULS ARE GOING TO BE DAMNED. THEN THE DEVIL TURNS THE TOWN AGAINST THEM AND THEY ARE KILLED AND GO STRAIGHT TO HELL.

Fallout from revelation
Martellus is stunned by what he's learned but know's it to be the truth. He was floundering in Cliffside and has no doubt that his soul was teetering on the edge. Still, he refuses to believe that he's beyond saving and fights back against the devil and the town of Hashby. As things turn more and more hellish the odds look slim but through the power of never giving up and staying positive Martellus is narrowly able to escape the town. Bloodied and beaten down he stumbles out onto the highway and flags down a trucker who stops and picks him up. As Martellus thanks him and slumps into the passenger seat the truck driver, who seems oddly familiar, says "Looks like you've been through hell, buddy." And then we see the drivers eyes in the rear view mirror and they flash red, just like the devil's did back in Hashby!


Okay, in closing, here is my point. The mystery genre is inundated by stories that rely solely on a shocking revelation to make them seem unique and strange. They try to cover everything up with the grand blanket of weirdness and hope that it's enough to make their story commercially successful. What's sad is that a lot of times the story was plenty good enough without the shocking revelation and all the revelation does is sort of negate the 80% of the story that came before. It was all buildup to a revelation so unrelated and bizarre that it makes the final act of the story almost completely disjointed from the rest of itself. Do some mysteries pull off the shocking revelation without ruining everything? Sure they do. The Sixth Sense is a great movie despite its reliance on one shocking revelation. The same goes for The Prestige or even Memento. But even as I say that, think about this, how many times can you rewatch those shows? Once the shocking revelation is known to you it's always fun to go watch the movie again, knowing what you know and seeing things with that new knowledge. But after that? How many times does that movie go back in your video player? I consider The Prestige to be one of my favorite movies of all time and yet I've only watched it 3 times from start to finish.

In my mind, a mystery is a story where you're trying to solve something of a puzzle. There's an issue that needs solving, someone goes on a quest to solve it, along the way they get clues and information, then they solve the mystery. Great mystery stories seem to follow this very method. But most modern mysteries don't have the smarts to string together a believable mystery, so they instead rely on the shocking revelation. When the story is over all you remember is "I can't believe the town was really a version of hell!" which is what the storyteller wanted because they had no explanation otherwise to their mystery. How do you solve the mystery of a town that can make your dreams and nightmares come true? Well, you could use a shocking revelation and not have to solve the mystery! Thus, in my opinion, you have the reason that modern mysteries are lame. Now if you'll excuse me, I need to park this rant train and go to bed.



Monday, February 22nd, 2010
---
11:50 pm
- Cryin'
Okay, so I'm a pretty emotional guy. I've never been anything near "macho" and never will and I'm completely okay with that. Still, I was a little caught off guard yesterday when I teared up during not 1 but 2 movies over the course of the day. First up was "Gridiron Gang", which I had never watched. Towards the end of that movie I really got choked up. And then last night, towards the end of "Whip It" I again had to choke back tears. There's something about movies that show people overcoming difficult circumstances and finding their place in the world, I don't know, I really love that stuff. It really made me wonder why I don't write stuff like that. Maybe I'd just sit there and cry while I tried to write it, hahaha, who knows. My stuff has heroes in it but it's never exactly cheery material. And I like villains and bad guys way too much anyways. But still, apparently show me a "finding your place" film and I'm gonna find a few tears to shed while I watch it. Sheesh.

Now that I've admitted all that I'm really wishing I had something tough to say to go with it, like, "after I watched Whip It my friends and I went and rumbled with the local street thugs who were harassing the senior citizens at the bingo hall" but sadly I have no such thing. Although, after I watched "Whip It" I did play a video game in which I participated in many battles and used my skills as a soldier to dispatch enemies and help my team win lots of maps, so maybe that helps a little?

Anyways, I'm about to watch "Law Abiding Citizen". If, at any point during this film, I start to tear up then I'm going to start thinking something is wrong with me.

Have a great night everyone!
Sunday, February 21st, 2010
---
11:33 pm
- What's going on?
Man, I get nostalgic for the days when all of my close friends blogged all the time. I'm guilty of having substituted emails and blog entries for real friendship in a lot of cases so when we all quit blogging it's like losing friends. But, I figure I'm a part of the problem since my experiment in daily blogging was short lived so I'm thinking of starting that up again. I don't know, though, we'll see. For now though, here's what I've been up to lately.

I did my taxes and found that I owed A WHOLE STINKING LOT OF MONEY. My newspaper job is technically labelled as "contract labor" and therefore don't have any taxes taken out of my checks. So it's known that each year I'm going to owe some money and I was ready for that. Well, being llabeled as "contract labor" means that, according to the ever brilliant IRS, I get labelled as being "self employed". Well, being self employed means that you get hit with some insane taxes. I'm not going to give you the full number but I will tell you that I owe the IRS thirty percent of my newspaper earnings from last year. If I was making hundreds of thousands of dollars per year I wouldn't care but seeing as I'm barely making enough to scrape by in the world (between working 3 jobs AND having a roommate) then getting hit with a thirty percent tax seems truly unfair. I rarely get upset in life and even when I do I get over it really quickly but this really just knocked me down and kept me there. There was a week there where I just felt like it was all completely pointless. But these days I'm getting the wind back into my sails and getting back with it. The whole thing still isn't resolved and I'm still not happy about it but being upset about it isn't going to solve anything, so I'm trying to just move on and deal as best I can.

Other than that, just working and playing video games. I've been spending my free time playing Star Ocean: The Last Hope and a new game called MAG and have been enjoying them very much. Of course, I need to do a better job of limiting myself and writing more fiction but the past month or so I just haven't really been doing much of that. I'm way too close to finishing my novel "Moonbridge, CO" to stop now and I really do need to recommit myself to that goal. I think I'll make that commitment next week. Starting in 7 days I'm going to do that, I've just decided. I'm going to get back to writing on it every day and get it finished up. It's long overdue and I'm really happy with that book and I think people are really going to enjoy it.

Anyways, how's that for some rambling? Life is good, work is work, family is awesome. I hope all of you out there are doing well and that things are treating you good in the world. I'm off to watch the Ellen Page film "Whip It". I'm interested to see how Drew Barrymore does as a director as this is her first film to direct.
Tuesday, January 19th, 2010
---
4:27 pm
- Quickly now
Okay, real quick I wanted to tell everyone about my awesome plan. There's a new poker tour going on called the Heartland Poker Tour. It's televised on HDNET channel on satellite TV and we enjoy watching it. One of the great things about it is that the players aren't professionals, they're just every day people. I'm not a professional either, but I have a lot of confidence in my game and think I can play at or at least near a pro level. So, on Thursday morning I'll be driving up to the far dang corner of Oklahoma to the Downstream Resort and Casino to participate in a qualifying tournament for a Heartland Poker Tour main event tournament. I'm not sure if I'll win, as poker can be fickle and just plain mean sometimes no matter how good you're playing, but I know it'll be a lot of fun. My friend Johnny is going with me and we'll play in a qualifier on Thursday night. Finish high enough and we get free entry into the $400 qualifier the next night. Finish in the top 30 percent of that and you get free entry into the $1500 main event the following weekend. Make it to the final table of the main event and you get onto the TV show and have a chance to win around $100,000 or so. Lots of ifs, and like I said, poker can just go wrong no matter how well you're playing, but it's going to be an awesome mini-vacation and I'm super excited to at least have the chance to make my way into a big money tournament like this.

That's all for now, gotta hustle to get ready for Basketball coverage tonight!
Sunday, January 10th, 2010
---
10:12 pm
- Inspiration
I've had a Best Buy gift card burning a hole in my pocket for a little over a week now and was hoping to spend it today. I had a lot of work to do first and then was also watching the end of the playoffs this evening but I was going to head to Best Buy after that. After all, their website and their automated store phone both assured me that they were open until 9pm on Sundays. Well, I get there around 7:30pm and was saddened to find that they're as closed as could be. I decided to go over to Target and wander around for a bit and found some things to buy that I absolutely don't need. I came to my senses before I get to the register and end up buying nothing, so score one for saving money. I was planning on getting some food but after spending most of the weekend stuck at the house writing the newspaper I didn't just want to pick up food and go back home. I saw a TGI Fridays and decided to head in. Since I was alone I grabbed my notebook even though I didn't have anything I wanted or needed to write, but I figured "why not" and took it in. I sat at the bar so I could watch football highlights, ordered this awesome chicken sandwich that comes on garlic bread, and then opened my notebook. At random times lately I've been thinking about what novel to write next and I came up with the main character name for one of my novel ideas and realized I hadn't written it down anywhere. So I decide to jot it down just so I won't forget it. Then I decide to jot down a few plot details so I won't forget them. Then I spend the next hour outlining about 85 percent of the major plot of the entire novel. It was a bizarre feeling too, because at no point was I really trying to come up with story or plot. It was just sort of happening to me, it wasn't something I was really actively doing. I was coming up with things faster than I could write and sat there and scribbled almost seven pages worth of notes and detailed scenes and plot points. The book had long confused me as I had a great idea and no clue how to execute it. Well, somewhere in my mind the whole thing apparently made sense all along because it came together so bizarrely easy that it honestly kind of freaked me out. It was by far the easiest creative session I've ever had when coming up with an idea. Add into that a super nice and super cute bartender, a tasty sandwich, and highlights of some great football running on the television and you have the recipe for a superb evening out. It was awesome and now I'm more excited than ever to finish my current novel so that I can start on this next one!

I hope you're all doing great and that your week starts out good tomorrow. I've been getting up early on Mondays, Tuesdays and Thursdays in order to work on my new freelance writing job. So far it sort of sucks, I'm not going to lie, and it's effectively wiped out the idea of having at least one day off a week (Monday is my on again off again only day off per week but now that I"m getting up and writing in the morning that doesn't feel accurate any longer, now it's just another day in which I work). I mean, even on my days off I usually work on creative writing, which is certainly work too, so I guess in all actuality I never really had a day off anyways. Sometimes I wish I had real days off, but whenever I do take a whole day not to work on any writing I usually feel really guilty and frustrated, so I suppose I should just accept myself for who I am.

That's it. Just wanted to say hello and talk about my great outlining session at TGI Fridays. I hope you're all doing awesome!
Monday, January 4th, 2010
---
1:26 am
- The Resolution
I've never made New Year's resolutions before. I've long thought them to be a stupid thing to do and they're pretty much scientifically proven to be worthless anyways. But for some reason, this year I've decided to make one. While some people vow to get in shape, quit smoking, or be a better husband mine's not going to be any of those things. Simply put, my resolution is to be a better version of myself than I was in 2009. I'm not targeting just one aspect of my life, I'm targeting every aspect of my life. I will be a better uncle, a better son, a better friend, a better brother, a better grandson, a better employee, a better member of society and a better Christian. I'll do better with my finances, my health, my career, my goals, my relationships and anything else that I involve myself in. I will be better. It's not "A" new year's resolution, it's "THE" new year's resolution. It may sound broad and impossible to accomplish but weirdly I think it's kind of simple. Do better, be better, or be a failure. Now I'm not being overdramatic here, but honestly, if at the end of 2010 I can't look in the mirror and say with all honesty that I'm not better than I was a year ago then I will consider 2010 to be a general failure. Will there be setbacks? Sure. I could lose my job, come down with a terrible illness or any number of unforeseen things. But it's in how I react to those things that I'll define myself.

So there you have it. I loved 2009 and I don't feel awful about who I was or anything like that, that's not what this is about. But I know for a fact that I can do better. It's a fact, none of us are perfect and there are ways every single day that we can be better. And I'm making it my stated resolution for 2010 that I will strive to do better on every level of my life.
Monday, December 28th, 2009
---
9:24 pm
- December 27th: A day so unremarkable that it's remarkable
The song of the day today is "Catch and Release" by one of my favorite bands, Silversun Pickups. This is from an unplugged that they did and it's superb. CLICK HERE to listen while you read!

For the second day in a row I woke up pretty early. This time it was due to the fact that I was dreaming about snakes, which was uncool. I don't have an irrational fear of snakes but I do have a rational one and so upon waking up at 8:35 am I was certainly wide awake for the day as there was no chance I was going to go back to sleep and give the snakes a second chance at me.

Okay, to be honest I have very few direct details of what I did today. I wrote some, surfed the internet, did some online shopping, answered some emails, messed around with some ideas, planned some projects for 2010, debated about which novel to write next, and stuff like that. I then watched a football game and then played some Assassin's Creed 2. Honestly it was among the most relaxing afternoons I've had in a long time and it finally felt like I was recovering fully from the Christmas mayhem.

Eventually I went over to my family's house for a bit and then I was going to go to Border's books to spend a gift card but then I decided I didn't want to and so I went back home. I played a bit more AC2 (I talk about Assassin's Creed 2 so much that I'll now be abbreviating it) until Chris and his dad and big brother showed up to watch the Cowboys game. We all watched the game and enjoyed it. While it was on I worked on some stuff for our big poker thing upcoming on Saturday where we'll honor the winners from the tournament season. My brother came over at the end of the game and we all played a card game called Dominion. It was a lot of fun even though I'm apparently really bad at the game as I've come in last both times I've played. After that I played a bit more AC2 and then watched the latest episode of Friday Night Lights (I'm so saddened to be caught up. Now I've got to wait for the new episodes like everyone else!) and then went to bed. All in all it was a good, low key day that was really needed.

The picture of the day is of my nephew Josh, who was sporting some awesome pajamas when I stopped by the house yesterday. I love this little guy a ton, he's awesome.




And that was my Sunday.
Sunday, December 27th, 2009
---
12:55 pm
- December 26th: Uncluttering time!
For the song of the day I thought I'd share one of my favorite country songs ever. I'm not a big fan of country music most of the time. There are some good songs but as a genre overall I'm just not all that thrilled with the trends in it these days. But back in the day there were some truly powerful country songs and "This Cowboy's Hat" by the late great Chris Ledoux is one of them. CLICK HERE to listen while you read!

It's been pretty difficult to care much about cleaning over the past week or so since I've been so wrapped up in Christmas. While my house wasn't trashed it had become cluttered to a ludicrous degree. Of course, if we want to talk about my bedroom then yeah, I have to admit that it was pretty much a disaster. Since I don't sleep in my bed it mainly serves as a big wide open space to lay junk. When you consider that it's been many, many weeks since my last junk detox of the bed and add on all of the Christmas gifts and such that were added in recent days you can imagine just how bad it had gotten.

But before all of that, I woke up pretty early in the day, which was a nice change. It was around 9am, which sure as heck beats 11am. I needed groceries badly so after paying a bunch of end of the month bills I headed out to get some food. Wal-Mart wasn't as horrible as I had thought it would be but I also didn't find much in the way of meals. Being such a picky eater, I run into this issue from time to time. Since the number of things I eat are so limited every once in a while I'll get so sick of them that I'll go to buy groceries and get very little. All the same old stuff just doesn't sound that good. So that was sort of dumb, as i really needed food and picked up a very tiny selection of food that will only last a few days.

After I got home it was cleaning time. The living room wasn't horrible but as I moved on to the bedroom it was the true definition of a chore. Just a long task of cleaning up and uncluttering the place. Once the room looked great I then set out to fix my computer desk situation. A few months ago I switched from a computer desk to a dual table set up thinking that it would give me more room. It ended up just being clunky and funky and off and the awkward way in which my keyboard had to sit was at least partially responsible for my wrist starting to hurt over the past few weeks of writing. So I cleaned it all up, then broke down all of my equipment and got rid of the tables. When I got rid of my old desk Chris took it and put it in his room and thus took his old desk and put it outside in our storage shed. So I called my brother and he came over and helped me bring in the old desk and set it up. He also did some work on my laptop as it's sort of retarded at times. After that he invited me to go to dinner with him and his family and so we headed to On The Border.

The meal was really good and a lot of fun. I say it all the time but I can't stress enough just how much I love my nephews. They're the best. After the meal I was back home and did a little writing before heading out for a long, long night of doing my second job. When I got home I decided to watch "Mask of the Ninja" which turned out to be an awful, awful movie. But what should I expect of a film that has Casper Van Dien as the star? 40 minutes in I decided I had tortured Chris and myself enough and I cut it off. Chris went to bed and I flipped channels a bit before falling asleep around 3am.

The picture of the day is at On the Border. Josh noticed I was about to take a picture and turned his head but Matt was enjoying his french fries too much to care that I was taking his picture.





And that was my Saturday.

Saturday, December 26th, 2009
---
7:43 pm
- December 25th: Christmas Day, post Christmas
For the song of the day I wanted to share "Hero" by Regina Spektor. This was the track that played during one of the most powerful scenes in "500 Days of Summer" and has been stuck with me ever since I saw that amazing sequence in that amazing film. CLICK HERE to listen while you read!

Today started very shortly after yesterday ended thanks to the fact that I was sleeping at the scene of the Santa visit. My oldest nephew Jacob woke me up right at 6 am (I had gone to sleep around 4am) to show me the Nintendo Wii and all the games that Santa had left for he and his brothers. He was thrilled by two things. First was the fact that I had slept through the entire thing and second was the fact that Santa had taken the time to hook up the game system. He gets his brothers up and they all play Wii for some time. I stumbled into the kids bedroom and tried to sleep a little but couldn't really get comfortable and got back up. I spent the morning with my family but around lunchtime I had my dad give me a lift back to my house.

The original plan was to go back to my parents a little later since we had family coming over but I got home, wrote just a little bit and then fell right dang asleep in my computer chair. I slept for about three hours and when I woke up around 4pm I called my mom and found out that she and my dad were about to go visit his parents (aka my grandparents). I haven't seen them since last Christmas so I told them to come pick me up. We all headed out and it was a very nice drive. I've got great memories of the trip out to their house in Boyd and even though I'm supposedly a grownup now it's still an awesome drive and one that makes me feel like a kid. It was great to see my grandparents. I've never really been all that close with them and that's pretty sad to me, but it was great to get to spend a little time with them. Usually it's a big production out there with everyone from my dads side of the family but everyone had sort of scattered by the time we got there and it was just my grandparents. So we hung for a bit and then headed home.

Just like the trip out, the trip home was fun and I was just talking with my parents the whole way. I love both of them a ton, I really do. I think it's awesome that I don't just love my parents, but I like them and they like me and we can have fun hanging out and talking. It makes life awesome to be able to get that kind of joy out of something simple like a car trip. I stopped off at my family's house and said one last merry christmas to all of them before heading home. I watched a little football with Chris and then played a little Assassin's Creed 2. Chris fell asleep on the couch and I spent a lot of time in my room. I watched two more episodes of the new season of Friday Night Lights and it was some of the best television ever created. Seriously just mind blowing good stuff. I then spent many hours just in a weird sort of state of mind. Just sort of lost in the idea of laying 2009 to rest and diving into 2010. I was halfway fuming over some aspects of this past year that haven't played out how I wanted but at the same time I was really just sort of alive with possibilities for the future, so that was cool too. All in all it was a weird time but a good time.

I headed back into the living room and watched a little television, played some more Assassin's Creed 2 and then finally fell asleep around 5 am. All in all it really didn't feel like Christmas to me since I had spent the last 48 hours straight in Christmas mode with my family. I wasn't sad about it or anything but yeah, it just wasn't really like Christmas day for me at all.

For the picture of the day you've got a photograph that I've named "21st Century Countryside". My grandparents neighbor's have a gas well on their land and it's right on the border with my grandparents land. It used to be one of my favorite things to just sit out there and look out across all that land and now there's this giant industrial thing there. I'm not a big fan of the companies doing all of this natural gas drilling and it made me a bit sad to see it out there in what used to be just pure countryside for as far as you could see.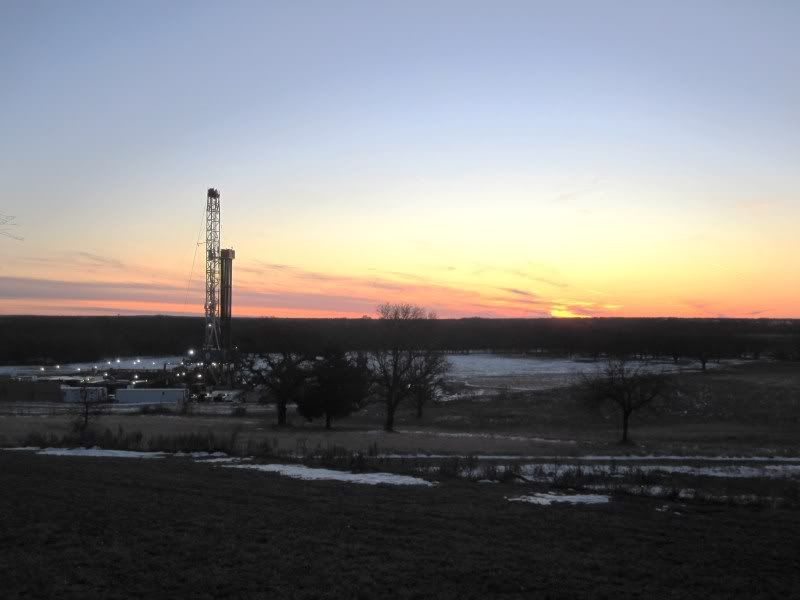 And that was my Friday.
Friday, December 25th, 2009
---
11:02 pm
- December 24th: Christmas Eve with Pete Adolphus
I woke up and bummed around the house for a bit. I was going to be spending the night with my family so I was pretty interested in doing as little as possible for the early part of the day. I messed around on the internet a bit, wrote a bit, watched a little television, and that was about all. It was snowing a little and that was pretty special. Chris and I went and grabbed some Jack in the Box and then came back home and it was still snowing a bit but the snow wasn't sticking. We ate and then I played Assassin's Creed 2 for about an hour and a half. Then my brother called me.

Phillip wanted me to go with him to the store to get stuff for dinner and said "we need to do it now because of the weather". I just thought he was being dramatic, as it was just a few snow flurries. But I look out the window and wow, it went from flurries to blizzard in a really short amount of time. It doesn't snow that often here in Texas but it's not like I've never seen it before. But man, this, this was insane. For all of my friends and family that live around here I know you don't need to be told, but it was just whipping this freezing snow all around. It was awesome and a bit scary at the same time. My brother came and picked me up and we headed out. He then informed me we also had to go to Target to look for something real fast. That place was insane and when we came back out the storm had intensified and the walk to the car was psychotic. Seriously, it was like being punched in the face by winter. I dropped him off at the door over at Wal-Mart so he could get groceries and then I tried to survive the combination of winter's fury and the insanity/stupidity of Texas drivers as I circled the store waiting for him to come out. Finally he emerged and we slowly made our way back to their house.

Once there it was really just an amazingly awesome day of family and fun. I know I didn't give too many details yesterday about my Christmas but I'm not even really sure that I've fully absorbed all of it yet. Today was the same. It was just this amazing day filled with all that is good about life, you know? Everyone was in a pretty fun mood and there was a lot of joking and stupidity going on. Eventually Chris came over and we all had dinner and then my nephews got their stockings. They each got a Zhu Zhu pet hamster thingy and my dad at one point has everyone in the room convinced that one of them is named Pete Adolphus, which was about the funniest moment of Christmas when my mom finally grabs the paperwork from him in an attempt to locate the name and we all realized that my dad was just being an idiot. It was pretty great. Eventually the boys went to bed and Phillip, Amanda, me and Chris played a new card game called Dominion and it was a lot of fun. After that Chris went home and me, Phillip and Amanda popped popcorn in their popcorn machine and then watched "500 Days of Summer". After that we all just sort of hung around and stayed up late and I finally went to sleep around 3:30am, which was about two hours and thirty minutes before I would be awakened by an excited nephew who had just discovered the Nintendo Wii that Santa left for him and his brothers.

The picture of the day is of me on my front porch when the winter storm was first getting bad. It ended up being much worse than this but there was no way I was gonna go out in it again to take another picture!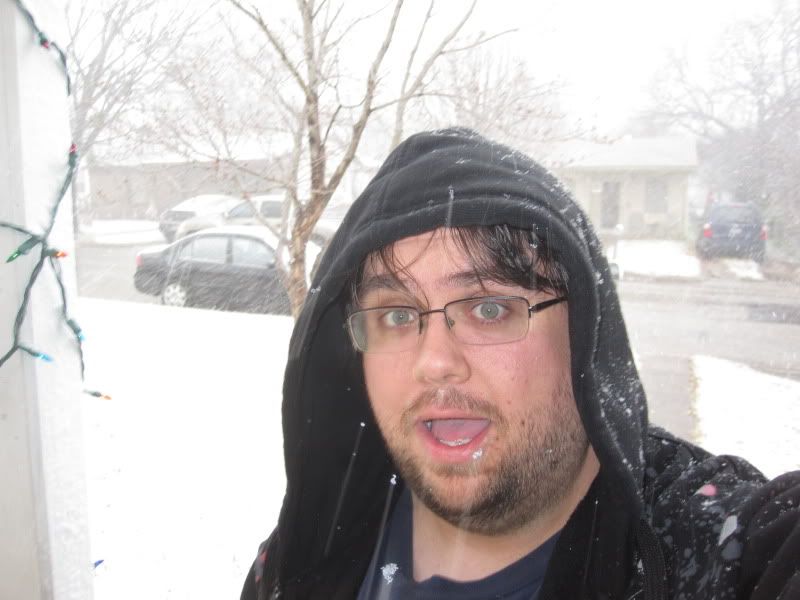 And that was my Thursday.
Thursday, December 24th, 2009
---
6:05 pm
- December 23rd: Christmas till you crash
No song of the day today as I'm not on my home computer. I woke up at some point, maybe around 10ish or something. I'm having one of those weird times when I really can't remember much about what I did in the early hours of the day. Watched some television, I'm sure, and I think I also played a little Assassin's Creed 2. Before long it was time to get Christmas underway so I headed over to my family's house and borrowed my mom's car which has a lot more space. I went back home and loaded it up with all of the gifts I've bought and then went back over. My big present to my whole family was too big to wrap so I gave that to them right away. It's a big popcorn machine and for a family that loves popcorn I knew it was a great gift for them. I'm really happy about the reaction it got and it makes great popcorn and we had a lot of fun with it, so that was awesome.

I spent the day with my family just hanging out and having a great time and Chris and his big brother Johnny came over. My brother got off work as did my dad and we all ate burgers and hot dogs and then it was present time! We had a blast doing it and everyone did an awesome job of gift buying this year. It was by far the best Christmas we've ever had in that regard. My brother and I scored huge with our secret gift to my mom and sister-in-law. A few weeks back while mom and Amanda were gone doing some Christmas shopping Phillip and I set up the house to take some photos of my nephews (his kids). It was a pretty big chore but the end result was some awesome looking pictures which my mom was very nearly convinced had to have been professionally done (a comment she made after seeing them in her christmas gift). Then we printed them all up and put them into these really cool photo frames that we bought. They ended up looking really good and my mom and Amanda were both super happy about them, so it was great. It's funny that no matter how much you spend on a big present it's the ones that you assemble and build yourself that are the best. All in all it was an amazing time and such a special Christmas. I got some great stuff and my brother bought me the 10th Anniversary Sports Night box set which was amazing and all in all it was the best day I can remember in a long, long, long time. One thing that I bought for my nephews was Lego Rockband for their PS3. Well, suffice to say that they enjoyed it for about 20 minutes, and the rest of the grown ups enjoyed it for about 2 hours straight. You haven't heard rock and roll until you've heard my brother belting out "The Final Countdown" as if he's singing to 100 thousand screaming fans. Add in the stellar Phillip/Chris/Johnny performance of a Bon Jovi track as well as my own rendition of "Bad to the Bone" and you've got an ear splitting good time.

We all hung out for a long time and then I headed home. I was exhausted as heck and hung out with Chris for a few minutes. I unloaded all of my gifts and then crash landed right into sleeptown. One moment I was sitting there, looking at presents, the next I was out for the night.

I love my family, I love this time of year, and I loved our Christmas.

The picture of the day is of the popcorn machine I gave to my family. It's awesome and makes tasty popcorn!




And that was my Wednesday.
Wednesday, December 23rd, 2009
---
9:13 am
- December 22nd: At the finish line
For the song of the day I'd like to share a band that has a special place in my life. They're called Paw and I relate them to being young and hanging out with my brother. We had the game console the 3DO and one of the games we played constantly was called Road Rash. The band Paw was heavily featured on the game and thus they always instantly take me back in time. This is the song "No Such Luck". CLICK HERE to listen while you read!

The day started early as I had to get up and go get the newspaper. We were again printing a day early thanks to holiday scheduling and I stumped my way down to Granbury. The trip down was uneventful. The trip out? Yeah, a little different. There was so much traffic that it took me about 45 minutes to travel down about 3 miles of road. But once I got out of there it was no big deal and business as usual as I cruised allt he way home.

I met up with my boss at the office and we did our regular routine and I talked about poker a whole lot while we were there. I got a Christmas bonus on my check which was awesome and super appreciated for sure. After we were done up there I headed to the house to grab something and then waded out into the madness that was December 22 shopping. I had a few key places I needed to hit and it was an interesting journey. I was in a very good mood and that helped me out a lot because traffic was a nightmare. I went to Target to exchange an alarm clock that my roommate bought me and then I went to Half Price Bookstore. From there I shot across the street to Gamestop and then it was time to head outta that part of town... very slowly. A very nice person let me back onto the main street and then we slowly inched our way forward for the next 40 or so minutes. This time it was only about a mile and a half traveled in 40 minutes. I finally got out of there and went to Blockbuster to rent "500 Days of Summer".

I got back home around 5:15 pm and had to leave for City Council at 6:00 pm so there wasn't really much down time. I got myself prepared and then headed out for my last council meeting of 2009. There weren't many people there and the first part of the meeting went quick before the council went into a closed door session. Now, when they returned I had to go up and address them to present a few of them with awards they won in the "Best of the West" competition. I've covered council for over 2 years but never have I spoke there and I had a whole forty five minutes to sit and worry about it while they were in closed door session. They came back and it was my time and man, I think it was pretty bad. I say think because, crazy as it sounds, I can't remember everything I said. I know I rushed it a lot and talked at a pretty high rate of speed. People clapped when I was done and handed out the awards so what I was saying must've made some sort of sense I guess. It'll air on the local cable access channel later this week and I hope to never ever see that footage. I'm thinking it'll be bad.

After that I had to go and write the council coverage and so I did. It took longer than I had thought it would but when I got done around 10 pm I was done with work. I'm now newspaper free for five straight days. It will be Monday before I have to do anything and I'm beyond thrilled about that fact. With work done I talked with Chris for a while and then we watched "500 Days of Summer". It was one of the best movies I've seen in a long time. Seriously, I'm half insulted that no one ever told me how brilliant it was. This was a brilliant film. It was smart, funny, innovative, heartbreaking. It's been a long time since I fell in love with a film the way I did with this movie. Some of the humor can be a bit rough around the edges but this is an amazing film. I'm not a big "film as art" guy but there are things here that really do go beyond regular storytelling and more into art. I found it to be a truly brilliant movie in every way.

Of course, there is a part of the film that really hit way too close to home for me. I had a very similar relationship to the one portrayed in the movie and it does a really good job of looking closely at how love can fade away if you let it and how no matter how hard you want to hang onto something sometimes that's just not how it goes. I don't want to spoil anything, but the way things resolve between the two main characters is actually exactly what happened with me and this girl. Ugh. It honestly hurt to see it layed out in film form that way. I identified so closely with the main guy in that scene, well, in a lot of the scenes actually. It made me think a lot about that relationship and I'd like to write about it someday. Not today though.

After that movie we talked for a while and I was inspired to write some fiction so I came into my room and wrote a little story. I was really pleased with it and if you want to read it just scroll down and you'll see it. After that I watched two more episodes of Friday Night Lights season 4 and it's so good. Amazingly good. I watched some Sportscenter after that and then some poker and then I fell asleep.

The picture of the day is of my favorite tree in the world. You'd think only hippies and environmentalists would have favorite trees but I, in fact, have a favorite tree. It's in Lake Granbury and is this lone tree that sticks out of the water. It never grows leaves, it just sort of sits there defiantly. I'm really sort of drawn to it and love seeing it and since I was stuck in traffic anyways I decided to pull off and grab a picture of it. It's not the best quality because I had to zoom. My sister Paula is in that area sometimes and I bet she'll recognize that tree. Anyways, from me to you, it's my favorite tree in the whole world.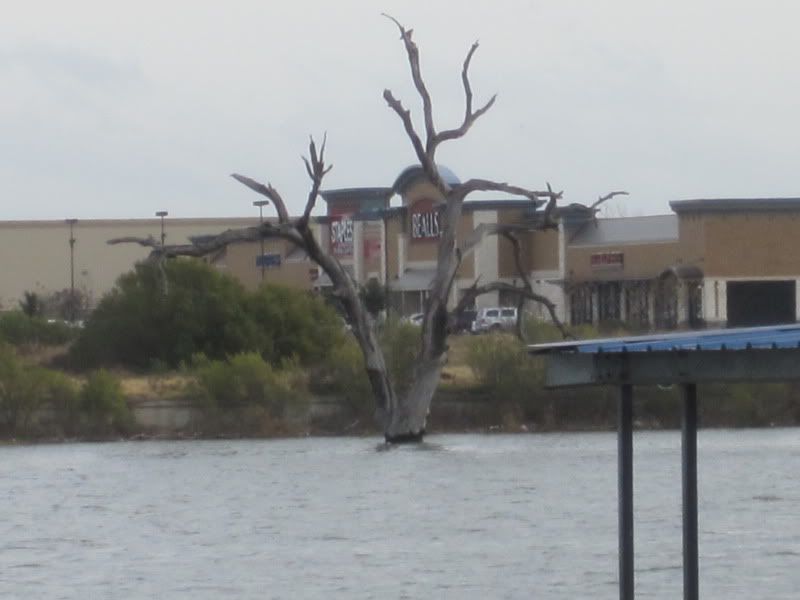 And that was my Tuesday.
2:03 am
- Fiction!
It's been such a crazy month at work that I've gotten very little written on my novel. Tonight I was inspired to exercise the creative writing muscles a little bit and this is the (very) short story that came out. I hope you enjoy it.

THE SEQUEL

Owen leaned back in his computer chair and let out a deep, contented sigh. He closed his eyes and bathed in the sound of his printer whirring as it speedily brought his just finished novel off of the computer screen and into the real world for the first time. It was done. It was done and no one would ever be able to take that away from him. No matter what else Owen did in his life he'd always be able to say that he had written a book. The thought brought a smile to his face.

He opened his eyes when the printer stopped and gathered the mass of pages in his hands. He knocked them against his desk to bring them in line and then held it in front of him and marveled at the simple, unassuming title page. It felt heavy and somehow that seemed appropriate. While the task of writing it had only taken him three years, Owen liked to say that he had been working on the novel for a decade. That's how long he had known he wanted to pursue writing and that's when he had the idea for the book. It took him seven years to get motivated enough to start and three more to finish. He smiled as he hefted it. A decade. It damn sure better feel heavy.

After enjoying the feel of it in his hands for another moment he slid it into a waiting file folder and then closed and fastened it. He opened the bottom drawer on his desk and dropped the file folder into it. Owen gently pushed on the drawer and watched as it slowly closed. Once it had clicked shut he returned his attention to his laptop. He clicked a button and a word processor document appeared. It was completely blank save for a blinking cursor and all the possibilities in the world.
Tuesday, December 22nd, 2009
---
10:21 pm
- December 21st: The inevitable Christmas crash
For the song today I wanted to share with you "Searching" by one of my all time favorite artists Joe Satriani. This is an incredible song and once it gets to the "chorus" (it's an instrumental, so I'm not sure if you can call it the chorus) it quickly goes from good to great and is one of my favorite songs he's ever done. CLICK HERE to listen while you read!

My memories of Monday are a bit scattered. After spending the entire holiday season in an almost sickening state of happiness and joyfulness I finally had my down day. I was irritated and annoyed almost all day long. After writing a ludicrous amount the previous four or five days I had to spend a good four and a half hour block of my "day off" writing nonstop. That made me less than happy, but when I also learned that I had to go and cover basketball and then return home and immediately write up the game and download/edit the photos and send them to my boss asap I was even less pleased. Honestly the majority of the day was me sitting and writing and just not being happy about it.

Before going to basketball I went over to my family's house and that was a really good move on my part. Just being around them for twenty minutes really pulled me out of my funk and even though I was still annoyed honestly what I realized is that I was just exhausted. I tend to operate on enthusiasm and optimism during long stretches of work but it had just all caught up to me and I was just really really exhausted. So I headed to basketball only to find that the game was delayed a good forty minutes. At that point I wasn't super pleased but had nothing else I could do other than wait around for it to start. The game itself was good, our team won big but it was around 10 pm before I even got home and again I just wasn't all that thrilled about it. Especially considering that I immediately had to write it all up and do the pictures.

So I worked some more and eventually finished it. Then Chris and I ended up talking a lot and that really helped me out big time. I don't even remember what we talked about the whole time. I talked a lot about the future and we discussed possible career paths and I mused about ways in which life could conceivably change drastically for me at some point in the future. The whole thing was really nice and a great distraction from my bad mood. Chris eventually went to bed and I finished re-watching season 3 of "Friday Night Lights" and then watched the first two episodes of the new season. That show is so good that it freaks me out. If it gets cancelled after this season, which is a possibility, I will be angry. I usually get sad when my shows get cancelled, but with this one I'll just get flat out pissed because it's stupid that a show this amazing can't pull in enough of an audience to stay on the air. After that I flipped around the television for a while and then went to sleep.

The picture of the day is one of my basketball pictures because I didn't take anything else. I like to pretend that they're all looking up at something crazy in the sky, like a ufo or a ghost or something. Or like a ghost driving a ghostly ufo maybe. That would certainly draw your attention.




And that was my Monday.
Monday, December 21st, 2009
---
5:22 pm
- December 20th: Crippled hand edition
Okay, so I've written a novella's worth of material for the newspaper in the past few days and then when you mix in the short story length blog post about my Saturday my hands and wrists are not pleased that I'm writing anything that isn't absolutely neccessary right now. So I'm going to be more brief than usual today and probably tomorrow as well.

After just a handful of hours asleep I was up and not functioning too well. Saturday had been such a draining day and it took me the first few hours of Sunday to really get up to full power. Around 2 p.m. my nephews came over for a few hours so my family could organize and wrap all of their presents. I had a blast with the little guys and they were awesome the whole time. They're so well behaved and so funny and nice, we just had a lot of fun. I gave myself a muscle cramp demonstrating how to do a jump kick in the front yard and I hurt my foot during an intense game of freeze tag in the back yard but it was all worth it. Amanda came and picked up those awesome little dudes around 4:30 pm and Chris and I decided we wanted to eat at Chili's but neither of us wanted to go to Chili's. So we got Chili's take out.

The food was really good and we watched the latest episode of "The Mentalist" and that was really not good. Man that show is so sub par right now that I'm really struggling to find reasons to stick with it. I'll probably stay for the rest of the season but unless it picks up in a big way I'll probably be done with it after that. After that I had to get to work on my "Best (and worst) movies of 2009" mega feature. In the last issue of every year I do this massive feature and it's a lot of fun and we get a great response from it but it's also a true beast to write. So we watched Sunday night football and I slowly but surely made progress as I put together my list. Around 9 pm we decided to go ahead and give each other our Christmas gifts and that was a lot of fun. I got an awesome alarm clock that I've been wanting as well as some CD's and a tv dvd box set so I'm excited to get started on that. There was also much candy involved and it was a lot of fun and my first gifts of the holidays, so that was nice.

After that I got back to work and wrote and wrote and wrote and wrote. I also laughed and laughed at watching Brett Favre lose, but that's a different story. Eventually I couldn't write any more and we just watched poker for a while. Chris went to bed and then I found myself completely and utterly unable to sleep. It was awful. I watched the rest of a movie called "New York City Serenade" and I really liked it. It wasn't a great film but it was really good and it was cool to see Freddy Prinze Jr. and Chris Klein in good roles and putting forth strong acting performances. I've always liked both of them but they don't ever show up in any worthwhile films. After that I watched like four episodes of Friday Night Lights season 3, a whole bunch of Sportscenter, and eventually fell asleep around 6 am.

The picture of the day is of Matt holding up a lego guy for the camera. I love how he looks in this shot and how you can see Chris, Josh and Jacob in the background.




And that was my Sunday.
Sunday, December 20th, 2009
---
11:39 pm
- December 19th: An ultimate victory
For the song of the day I thought it would be fitting to share "Christmas time is here" by the guitar virtuoso Steve Vai. The song is super awesome and a great representation of how I've been feeling lately as I love love love this holiday season. CLICK HERE to listen while you read!

I woke up at some point before noon (how's that for specific) and did some stuff that I can't remember. Surfed the internet, answered a few emails, did a little writing, just usual stuff. After a while Chris woke up and I immediately insulted him (my exact words were "Jerry Jones called and said that you're a worse coach than Wade Phillips". Dallas Cowboys fans can appreciate the insult.). This would set the tone for what turned out to be a wonderful afternoon. Chris and I needed to go to Wal-Mart to get drinks for our poker tournament that evening but Johnny was still asleep and we knew it was sometimes weird if you're at someones house and you wake up and nobody is there. So I decided to leave him a note, but I'll tell you the contents of that note later.

We went to Wal-Mart and got everything we needed and then headed back home. We all then sat around and joked and made fun of each other for about two solid hours. Most Saturdays are filled with me stressing over getting newspaper stuff done but since I had written so much the two nights before I had zero to do on Saturday. Me, Chris and Johnny just had a wonderful afternoon and it was much fun indeed.

The hours ticked by and it was time to get ready for the final poker tournament of our 2009 season. Chris and I have had a blast putting these on and a lot went into making them awesome. Plus, a lot was on the line for me. I was in second place in the overall points standings. Donna (chris's mom) had 40 points (you get points depending on how well you do in each tournament and at the end of the season you get prizes based on your final position) and I had 38. This meant that I had to finish 2 points higher than her to tie and force a playoff or I had to get 3 points higher in order to win the whole tournament season straight up. You can win a maximum of 7 points in a tournament and that's if you win the whole tournament. The problem is that Donna is a master of lasting late into tournaments. I knew that at best she would go out in 4th place which would award her with 4 points. That meant that I was going to need to get 2nd to tie and I'd need to win the whole night to win the overall tournament. Of course, while I've played great for the whole season I've only won once so I knew it was going to be a tough night.

As things got underway I immediately thought it was not going to be my night. On the first hand I get Ace/Queen and hit an ace on the flop. I'm up against Donna, the one person I don't want to be playing big pots with, and she bets strong. I call and hit a third ace on the turn and am feeling good but she bets big again and I'm a little worried but I call. The river brings a fourth heart and my three aces turns into the best possible flush which is a very strong hand. So when Donna puts in a third big bet I call her only to see that she hit a full house on the turn and had me killed. Starting off the night losing 1/5th of your chip stack to the one person you must outlast? Yeah, not the best way to start. The first half hour carried on like that. I lost a hand with a straight to the ace, lost one with three of a kind, lost another with a flush, and lost another with three queens. In no time at all I was in big trouble and hanging on for dear life while Donna had built up to almost 4k in chips (compared to my 1100). I scraped back up a little and at the first break I was around 2k (we start with 2500). During the first break we played a gift exchange game and it was a lot of fun and then we were back to the poker action.

The night continued to be a grind and honestly I was just trying to survive. I didn't play a whole heckuva lot and the few hands I won were small and honestly in my mind I had just sort of checked out. No one had enough points to reach me so no matter what I had 2nd place locked up and it just didn't feel like my night. Several other players had a lot on the line and it was a very christmasy feeling night (I had a disc of awesome christmas music playing) so I really was feeling like just sitting back and enjoying myself and being content with second place. But I scrape and scratch and stay low and at the second break I only have 1800, which is really not good at that point in the tournament. A crazy thing happened though. I looked over and noticed that Donna was down to 2100. I had been so wrapped up in my own little world of poker misery that I hadn't even realized that she had been losing chips. I knew she was playing a few more hands than she usually does but I can't pinpoint a time when she lost a big amount. Maybe it happened and I just didn't catch it but I think it was more of just a gradual thing that maybe she didn't even know had gone on. Regardless of how it went down, I realized that she was in sight. She was in the same exact spot I was and we were both going to have to try and make something happen soon in order to keep ourselves afloat. All of a sudden hope was renewed, my energy was back and I was feeling like there might be some magic in the air.

Things didn't turn around for me immediately but they did slowly turn. I won a few hands and a few more and then I lost a huge hand and most of my chips. Then I won a hand and then another and then another and all of a sudden I had a respectable stack of around 3300. Then a magical hand happened on which I had wired Kings and the flop came with two kings, giving me the unbeatable 4 kings. Johnny put some into this pot as did our friend Kevin and when he hit a full house on the river Kevin pushed in all of his money. I called immediately knowing that there was nothing that could beat my hand and just like that I had around 7k and was the chip leader. A few hands later Donna pushed all in with wired queens and got called by someone who had an ace. When an ace came on the flop Donna was out in, just as I had presumed would be the best case scenario, 4th place.

So I needed a second place finish to tie her and a victory to win the entire year long tournament season. I was pumped. I had the opportunity and I had the chips to make it a reality. Johnny (chris's big brother), Amanda (my sister in law) and me were three handed and even though losing in 3rd place would be tragic for me as it would get me just 1 point more than Donna had gotten and thus mean that she still won the overall tournament season but I decided not to play conservatively. I was ahead but not by a ton and now was not the time to play scared. There really weren't any big hands I got into three handed but I consistently won the small and medium sized ones. I was running extremely well and hitting great cards and slowly siphoning off money from both of my opponents. Amanda ended up hitting a big hand against Johnny and he was soon after out in third and I was a huge chip leader going into heads up play.

Now let me say this. I love Amanda. She's the sweetest person I've ever known and I've been so thankful that she's been a part of our family. It's hard to even recall what our family was like before she was a part of it and the last person I wanted to beat up on during heads up poker was her. But there was so much on the line and I just had to win. She was so far behind in chips too, like around 4k to my 16 or 17k and honestly it would've taken a few lucky breaks for her to even get back in it. I got really good luck and she got zero luck and after about 20 minutes I took it down with Ace/8. I won my second tournament of the season and had edged out Donna with a miraculous finish. Winning our tournaments is really really hard and with her lasting until 4th and having to be forced into a victory for the ultimate victory, man, it was just an amazing thing. I don't know, maybe it's stupid that it meant that much to me, but I take poker very seriously and I aspire to be great at it and I've fought hard all season long to put myself in a position to win it all. To be able to overtake her on that final night with a tournament victory, man, it was so supremely sweet.

I could go on and on about how awesome it was, I really could, but this has already gotten way too long. So I'll just say that it was an amazing night and we so cherish all of our great friends and family members who played in these tournaments and participated. We're looking forward to taking a break and then getting them rolling again in 2010.

After the tournament I was super psyched up and my brother drove me to do my second job. I'll just say that it took dang near forever, it was far into Sunday morning by the time I got back home, and I was beyond exhausted. But no matter how tired I was I remained excited about the way poker had gone and was pretty much smiling all night (or morning, as it was).


I took a picture of the note I left Johnny but I'm not on my own computer so instead I'm just going to type up the text of it.

"I have kidnapped your brother and his friend. If you want to see them alive again call (i put my cell phone number at that point in the note but don't want to put it here on the internet. Anyone who needs it has it and if you feel like you need it and you don't have it email me and I'll likely give it to you) and have your ransom offer ready. Do not call the police or your brother will die. Comply with my demands and you'll see them again at dinner. Defy me and you won't see them again until their funerals.

Just kidding. We went to Wal-Mart.

Aarron and Chris
p.s. I just spelled my own name wrong"

And that was my Saturday.
---